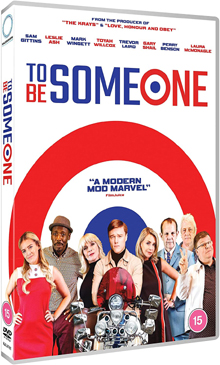 To Be Someone, starring Sam Gittins, Leslie Ash, Mark Wingett, Toyah Willcox, Trevor Laird, Gary Shail, Perry Benson and Laura McMonagle, and directed by Ray Burdis, is now available to own on DVD and digitally.
The co-owner of a popular Mods nightclub and with a successful scooter shop business on the side, life couldn't be better for entrepreneur and British Mod, Danny.
That is until he's introduced to the club's secret financier, Mad Mike, an unhinged underworld mobster who is determined to coerce Danny into pulling off an illegal drugs run to The Isle of Wight in return for his shares in the club.
Seeing their friend at an all-time low, Danny's friends step in with an ingenious plan – they will all go to The Isle of Wight's annual Mod festival and use the thousands of Mod enthusiasts descending onto the island as a cover!
A feel-good tale of modern-day mods, music, and scooter culture from the producer of 'The Krays' and 'Love, Honor and Obey'.
'To Be Someone' stars a number of the original cast of the iconic, cult mods n' rockers film, 'Quadrophenia'.
• Buy To Be Someone on DVD, or on digital download, at Amazon UK.