Isle Of Wight County Press: Leslie Ash & Toyah In New Film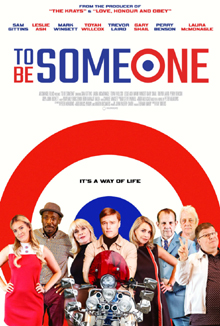 Leslie Ash, Toyah and Isle of Wight in new film To Be Someone
Sam Gittins leads a cast, including Leslie Ash and Toyah Willcox, in what's being billed as a 'lighthearted adventure movie set in the world of Mods'.
The Isle of Wight has a key role in the film that is released in cinemas today (Friday, July 9).
To Be Someone reunites some of the stars of the cult 1979 movie Quadrophenia, for the first time in over four decades.
Directed by Ray Burdis, it centres on young entrepreneur Danny (Sam Gittins), who co-owns a nightclub and scooter shop.
When he meets the secret financier – a crazy gangster – an illegal drugs run to the Isle of Wight is offered as a swap for shares.
The Island's annual popular scooter festival, which sees thousands of enthusiasts descend over the August bank holiday weekend, seems to be the perfect cover.
• Continue reading at the Isle Of Wight County Press. To Be Someone opened at select cinemas yesterday.