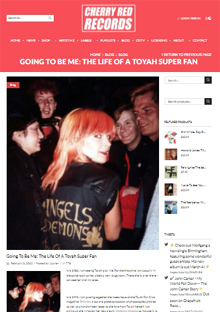 The dedication and commitment of the super fan is something we never take for granted at Cherry Red. Their passion and energy for artists is the lifeblood of any musician's career, and in our latest blog piece we celebrate that with a wonderful piece by writer and designer Chris Limb.
Chris has been a steadfast Toyah fan since the early 80s and wrote I Was A Teenage Toyah Fan; a fascinating example of loyalty and affection that serves as a window into the soul of any ardent music lover.
It is 1981. I am seeing Toyah play live. For the first time I am actually in the same room as her, albeit a very large room. There she is, over there. I can see her with my eyes.
It is 1991. I am putting together the latest issue of the Toyah Fan Club magazine Tellurian, a cut and paste concoction of photocopied articles as well as a handwritten letter to the fans from Toyah herself. I am typing up the lyrics for her new album Ophelia's Shadow to include in it; once finished I'll then take it to a print shop in Store Street WC1 to get a few hundred copies run off.
It is 2001. I am in a recording studio in Nuneaton where Toyah is recording guest vocals on a track by the band Chester with whom I currently play bass. The track will eventually be put out under the band name Family of Noise.
It is 2011. I am putting the finishing touches to the manuscript for my memoir I Was A Teenage Toyah Fan which grew out of a series of blog posts I'd written about my experiences some thirty years previously. I am about to self-publish this as both a paperback and an ebook.
It is 2021. I am writing this blog entry about Toyah and the impression she's made on my life over the past 40 plus years.
• Continue reading at Cherry Red. Browse Dreamscape's I Was A Teenage Toyah Fan news archive. There's much more IWATTF content in our vast News Archive (scroll to around 2010 – 2012).