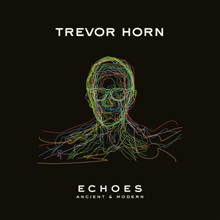 Toyah & Robert Fripp record Relax with Trevor Horn
Superproducer Trevor Horn presents Echoes – Ancient & Modern, his Deutsche Grammophon debut album, featuring fresh orchestral takes on 11 iconic tracks. The booklet notes feature an interview in which Paul Morley talks to his long-time friend and collaborator about how he picked the right artists to help him transform familiar songs into something magical and new.
Due for release on 1 December 2023, full release details will be announced shortly.
Horn himself sings vocals on the Roxy Music classic "Avalon", as well as producing Marc Almond, Tori Amos, Rick Astley, Andrea Corr, Steve Hogarth, Lady Blackbird, Jack Lukeman, Iggy Pop, Seal and Toyah Willcox & Robert Fripp in tracks originally performed by Pat Benatar; The Cars; Depeche Mode; Frankie Goes to Hollywood; Billy Idol; Joe Jackson; Grace Jones; Kendrick Lamar; Nirvana and Yes.
Tracklist:
01. Swimming Pools (Drank) feat. Tori Amos
02. Steppin' Out feat. Seal
03. Owner Of A Lonely Heart feat. Rick Astley
04. Slave To The Rhythm feat. Lady Blackbird
05. Love Is A Battlefield feat. Marc Almond
06. Personal Jesus feat. Iggy Pop
07. Drive feat. Steve Hogarth
08. Relax feat. Toyah Willcox & Robert Fripp
09. White Wedding Feat Andrea Corr with Jack Lukeman
10. Smells Like Teen Spirit feat. Jack Lukeman
11. Avalon
• Continue reading at toyahwillcox.com.