Releases: Musik Music Musique 2.0 – The Rise Of Synth Pop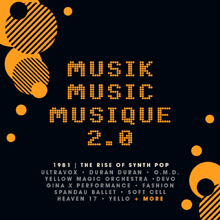 Toyah's iconic 1981 single, Thunder In The Mountains, is included on the 3CD compilation, Musik Music Musique 2.0 – The Rise Of Synth Pop. This was released in October.
• Sequel to the hugely successful 'Musik Music Musique', This time exploring 1981, The year synth pop broke into the mainstream.
• Over 50 tracks showcasing the innovation and exploration that gave rise to what would become the decade's pre-eminent musical form.
• Featuring Ultravox, Duran Duran, OMD, Yellow Magic Orchestra, Devo, Gina X Performance, Fashion, Spandau Ballet, Soft Cell, Heaven 17, Hazel O'Connor, Yello, A Flock Of Seagulls, Toyah, Kim Wilde, The Passage, Chris and Cosey, Japan, John Foxx and countless other electronic luminaries.
• Packed with familiar classics and lesser known gems.
• Further info on this release at Cherry Red Records. (NB. Toyah was also included on Musik Music Musique – 1980 | The Dawn Of Synth Pop collection in 2020.