Releases: Musik Music Musique – New 3CD Box Set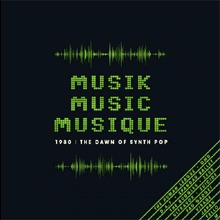 It's not often, Toyah's debut 1979 single, Victims Of The Riddle is included on a compilation!
It is one of 58 tracks on the forthcoming Musik Music Musique – 1980 | The Dawn Of Synth Pop, A new 3CD set exploring the arrival of synth pop and the dawn of a new musical era. Released by Cherry Red Records on 31st July 2020.
The set features music by OMD, The Human League, Ultravox, Toyah, Spandau Ballet, Kim Wilde, Philip Lynott, The Buggles, Fad Gadget, Suicide, John Foxx, DAF, Dalek I Love You, Visage, The Residents, Yello.
58 tracks marking the transition of electronic pop from the outer reaches of eccentricity and novelty to the very heart of a musical mainstream it would quickly dominate.
• Contine to the Cherry Red Records website for further info.