Toyah on TV: Quatermass – Chapter Three: What Lies Beneath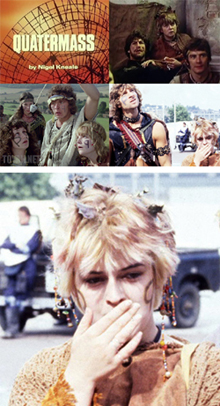 Quatermass: Talking Pictures TV: Tue 2nd June: 9pm
Chapter Three: What Lies Beneath. Quatermass is rescued by a group of elderly people living in a scrap yard who doctor his injuries. At the hospital, the doctors are shocked when Isabel levitates off her bed and explodes in a cloud of dust. Elsewhere, the devastated Kapp is left alone in the ruins of his cottage and observatory. More and more young people are joining the Planet People, including the gangs that have been terrorising the cities and the soldiers assigned to keep them away from the Megalithic sites. Contact is restored with Chuck Marshall and with the Russians in the form of Gurov (Brewster Mason). Quatermass theorises that this is not the first time this has happened; megalithic sites such as prehistoric stone circles are in fact markers where beacons have been left by the people living then as a sign that something terrible happened there, and that there are some kind of alien markers buried underground at these sites. Quatermass believes there is a sphere of energy surrounding the Earth. The Russians and the Americans send a space shuttle, commanded by Marshall, to make contact with the force. Quatermass is sceptical; he believes they are dealing not with an intelligence but with a machine constructed to harvest human protein. The space shuttle reports a giant beam of light stretching from somewhere in deep space to the Earth, just missing them. A second beam just afterwards destroys them.
Meanwhile, the Planet People are gathering at Wembley Stadium in the tens of thousands. Annie and Quatermass travel to the stadium but are powerless to prevent the Planet People from gathering. When they are attacked, Annie drives their car into the underground car park beneath the stadium where she crashes the vehicle and is killed. The lightning strikes the stadium and Quatermass underground, huddles against the wall to try and survive.
This episode originally aired on 7th November 1979 on the ITV network and was watched by 10.5m viewers in the UK. The 1979, four-part, mini series Quatermass (also known as The Quatermass Conclusion or Quatermass IV) is airing weekly from Tuesday 19th May. Stars John Mills, Simon McCorkindale, Barbara Kellerman, Ralph Arliss, Rebecca Saire, Toyah Willcox, David Yip, Alison Dowling.
• Talking Pictures TV is An Archive Film & TV Channel. Available on the following platforms/channels: Freeview 81, YouView 81, Freesat 306, Sky 328 and Virgin 445.