Make More Noise! 4CD Bookpack: Bird In Flight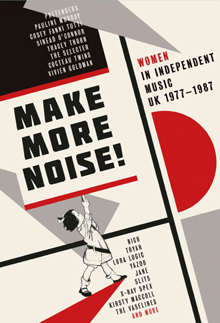 Toyah's legendary 1980 single, Bird in Flight, is included on the new Make More Noise! 4CD compilation.
The set is sub-titled Women In Independent Music UK 1977 – 1987 and retails as a Bookpack. It is released on 25th September 2020.
• 4CD / 90 track set exploring the work of female artists in the decade following the punk explosion.
• From household names and legends – Alison Moyet, Toyah, Kirsty MacColl, Nico, Tracey Thorn, Chrissie Hynde, Neneh Cherry, Pauline Murray, Sinead O'Connor, Tracey Ullman, Cosey Fanni Tutti – to underground figureheads and unsung pioneers.
• Spanning the genres – from the punk howl of X-Ray Spex and the NWOBHM stylings of Girlschool to Cosey Fanni Tutti's post-TG electronica, the experimental dub of Vivien Goldman and the the High Street pop of Bananarama.
Hardback book format includes over 14,500 words of sleeve-notes (including artist-written pieces) and introductory essay. Produced by the team behind the critically acclaimed "Scared To Get Happy", the "C86" series, "Electrical Language" and a number of other essential box sets.
• Further info and full tracklist at Cherry Red Records. Browse our recent "Toyah included on Compilations" news archive.