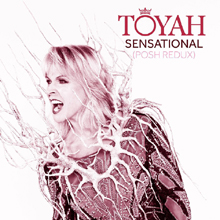 The new 'Posh Redux' version of Sensational featuring Robert Fripp on guitar, was released on Friday as a preview digital single to stream and download.
Following her Top 30 hit album Posh Pop and Isle of Wight Festival performance Toyah unveils details of the new 'Rhythm Deluxe Edition' of studio album In The Court of The Crimson Queen, presented as a prequel to Posh Pop.
The definitive version of the album now contains Toyah's unique interpretation of the iconic song Slave To The Rhythm, featuring Robert Fripp on guitar and produced by Simon Darlow, co-writer of the original track. The album also contains three brand new remakes of Sensational, Heal Ourselves and Latex Messiah featuring the Posh Pop Three of Toyah, Simon Darlow and Robert Fripp. Plus exclusively revised artwork and lyrics for the album.
• Watch the video below or at You Tube. Yesterday's Toyah At Home was a Sensational special, watch here, and today's Sensational Magical Sunday Lunch, here. Stream/download Sensational (Posh Redux) here.