That Was Then… This Is Now! – Featuring Toyah TONIGHT!
Ed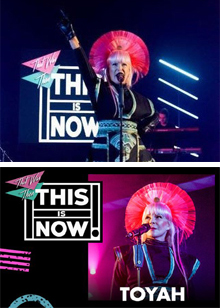 ition 1 of That Was Then… This Is Now! airs from 7pm this evening Thursday 5th November.
It features exclusive performances and a fascinating interview from Toyah herself.
She gives a stunning performance of I Wanna Be Free and as well as the standout track from her most recent album "In The Court Of The Crimson Queen", the utterly brilliant "Sensational."
Toyah also joins host Mike Read to give insights into her experiences of life and family under lockdown and about getting even with her husband Robert Fripp regarding the title of a new album
ORDER EDITION ONE NOW FOR JUST £10
Edition 1 also features exclusive performances from The Fizz and Chesney Hawkes and a video from Nik Kershaw who is number one on the Heritage chart this week and much more, hosted by broadcasting legend Mike Read and Sky TV's Hayley Palmer.
EARLY BIRD OFFER SERIES ONE OFFER ENDS TODAY
As a special introductory offer all 5 editions can be ordered now with a 20% saving applied at checkout. Featuring exclusive performances and appearances from Cliff Richard, Nik Kershaw, Limahl, Paul Young, Johnny Hates Jazz and many many more.
BACKGROUND
That Was Then… This Is Now!
was devised by production legend Mike Stock in the wake of the Covid-19 crisis which has seen all live music events cancelled leaving some of our most respected music artists unable to perform. The government has not been able to offer sustained support so the team behind the show will share all profits generated from the streaming of the show with the artists equally. As Mike suggests "…the objective is to create an opportunity moving forward that will provide a viable business alternative for artists as we face the hugely uncertain future of the music industry in these Covid times…'