Supermind: New Audio Drama – Toyah is Lady Daphne Witcombe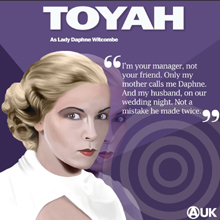 Toyah plays Lady Daphne Witcombe in the new AUK Studios' audio production of Supermind… – Coming to your headphones this year! (The great graphic which accompanies the announcement is a design by Robert Hammond)
"I'm your manager, not your friend. Only my mother calls me Daphne. And my husband, on our wedding night. Not a mistake he made twice."
This is Series One, subtitled: The Brain Drain. Written by Barnaby Eaton-Jones.
Prepare to hear the brilliant Toyah in the brand-new AUK audio production Supermind, coming to your headphones this year! Set in 1930s, Art Hardwicke, Colin McFarlane is an urban illusionist – Supermind. Toyah plays Hardwicke's manager!
Colin McFarlane tweeted: "Had a wonderful day in the home studio recording this brilliantly witty new audio series by Barnaby Eaton-Jones with awesome Toyah".
• See AUK Studio's tweet on this. See also Colin McFarlane's tweet about the recording, which includes a photo of Toyah.