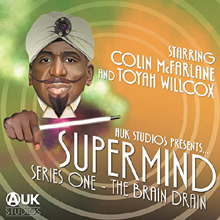 Supermind is available now on Audible, Apple Books, Storytel and more – View the trailer below. See further info at toyahwillcox.com.
In 1930s New York, the hot sensation of the cabaret circuit is urbane illusionist Art Hardwicke, whose stage name – Supermind – hints at his real-life mentalist powers. Aided by his manager, Lady Daphne Witcombe, and manservant Frampton, he fights crime and injustice wherever and whenever he is able.
In this comic melodrama aping the earnest American radio serials of the era, Supermind manages to rescue society heiress Anastasia Del Ray from being kidnapped by hoodlums, and her gratitude comes in the form of declaring she's going to Hollywood to make a movie of Supermind's life – but starring herself as Supermind.
Meanwhile, Professor Fenella Vaytell, of the Institute of Brain Studies in New York, has been developing a powerful weapon to seize control of the minds of the entire country. In the employ of her Nazi paymasters, Vaytell's nefarious scheme will not only endanger Anastasia, Supermind, Lady Witcombe and Frampton, but also the entirety of the United States of America!
Will Supermind use his prestigious powers to save the day? Will Lady Witcombe profit from them? Will Frampton faint at the sight of fisticuffs? And will Professor Fen Vaytell throw her head back and emit a wickedly evil laugh?
Starring – Colin McFarlane, Toyah Willcox, Barnaby Eaton-Jones, Julie-Ann Dean and Darrell Maclaine.