East Anglian Times: Singer Toyah Willcox Visits Sudbury Tearoom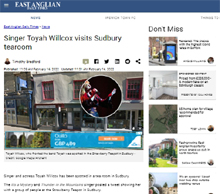 Singer and actress Toyah Willcox has been spotted in a tea room in Sudbury.
The It's a Mystery and Thunder in the Mountains singer posted a tweet showing her with a group of people at the Strawberry Teapot in Sudbury.
This comes after she performed at the Sudbury Quay on Monday and Tuesday night as part of her tour for her new album Posh Pop.
Owner of the Strawberry Teapot, Amanda Richardson said: "Toyah came in and had afternoon tea, with I think her band or her crew. I kept looking at her, thinking I must recognise her, I know her from somewhere. I was talking to her, and one of the crew said 'thanks boss', and then another said 'thanks Toyah' and it dawned on me. It was a missed opportunity to tell her how fabulous she is. I was a huge fan when I was growing up."
• Continue reading at the East Anglian Daily Times. See Toyah's Instagram post here.