Suffolk News: Toyah Spotted In The Strawberry Teapot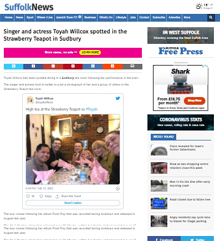 Singer and actress Toyah Willcox spotted in the Strawberry Teapot in Sudbury
Toyah Willcox has been spotted dining in a Sudbury tea room following her performance in the town.
The singer and actress took to twitter to post a photograph of her and a group of others in the Strawberry Teapot tea room.
She is in the town after her performance at the Quay Theatre which took place yesterday and Monday night.
The tour comes following her album Posh Pop that was recorded during lockdown and released in August last year.
The It's A Mystery singer has released over 20 albums, written two books, and appeared in over 40 stage plays in her 40-year career.
• Continue reading at Suffolk News. See Toyah's Facebook post here.