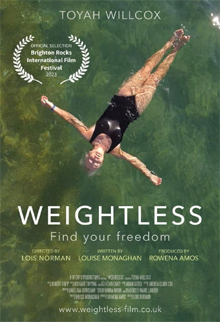 Isle of Wight film starring Toyah wins film festival award
A short film, shot on the Isle of Wight and starring Toyah Willcox, has won an award at the New Renaissance Film Festival (NRFF) in London.
Weightless was produced by Ventnor's Rowena Amos, through 9 of Cups Productions.
It was made on the Island in 2022 and Toyah was spotted filming on beaches here, in Freshwater and Ventnor.
The project also featured a host of well-known Isle of Wight names, including photographer Gianpaolo Mario Giancovich, and musicians JC Grimshaw and Angelina Grimshaw – the latter working with the crew on costumes.
This week, Weightless picked up the NRFF's prize for Best Female-led Short.
The film was directed by Lois Norman and the music was by King Crimson, Toyah's husband, Robert Fripp.
A trailer was released in May.
• Continue reading at the Isle Of Wight County Press. See also Yahoo! News.