On The Wight: Toyah To Star In Weightless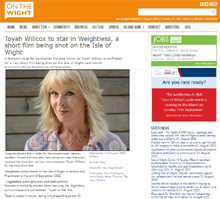 Toyah Willcox to star in Weightless, a short film being shot on the Isle of Wight
A fantastic coup for Ventnorian Rowena Amos, as Toyah Willcox is confirmed for a new short film being shot on the Isle of Wight next month
Congratulations are in order for the powerhouse Ventnor resident, Rowena Amos, who has just announced that she's secured the musician, actress and presenter, Toyah Willcox, for her next short film.
Weightless will be filmed on the Isle of Wight in Ventnor and Freshwater at the end of September 2022.
"Legendary punk princess and cult actress"
Rowena is incredibly excited about securing the "legendary punk princess and cult actress", Toyah for the role.
Toyah's career in music, acting and presenting spans 40 years, during which she had eight Top 40 singles and a prolific 20 albums. She's married to the founder and guitarist of the progressive rock group King Crimson, Robert Fripp, who thousands enjoyed watching perform with Toyah during Lockdown via YouTube.
• Continue reading at On The Wight.