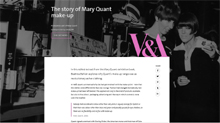 Fashion icon Mary Quant is the subject of a new V&A exhibition, opening on Saturday. Toyah is quoted on the V&A's The Story Of Mary Quant make-up page:
In this edited extract from the Mary Quant exhibition book, Beatrice Behlen explores why Quant's make-up range was as revolutionary as her clothing.
Singer Toyah Willcox was only eight years old and living in Birmingham when Quant's cosmetics hit the market. Unsurprisingly she was't allowed to wear make-up, but her older sister:
would bring home beautiful round Mary Quant bottles of nail varnish in amazing colours such as canary yellow, shimmery green and night time black. I could stare at these beautiful bottles for hours, the design was one of the best things I have ever seen. Mary Quant celebrated colour in all its spectrum and this had a huge influence on how I saw make up as an instrument of self-discovery and self-expression. Toyah Willcox, 2018
• Continue reading at the V&A website. See further info on the Mary Quant exhibition here.