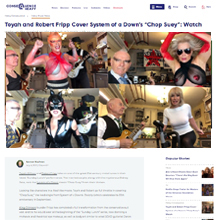 Robert Fripp and Toyah's 10 Best "Sunday Lunch" Performances
The frisky couple have been entertaining millions with their over-the-top cover songs
When the concert industry shut down in 2020, two musical heroes emerged to entertain us each week. The married couple of King Crimson guitarist Robert Fripp and new wave singer Toyah Willcox blessed us with their "Sunday Lunch" series of cover songs, and the world has never been the same.
While lockdown had us, er, down, the frisky pair kept our spirits up, delivering fun renditions of iconic rock and metal songs (mostly from the kitchen in their UK home), complete with Toyah's risqué outfits and Robert's no-nonsense guitar playing (even if he has to appear in a silly get-up himself once in a while).
And even though the world has opened back up, the couple continues to entertain us each week with new "Sunday Lunch" performances. The YouTube series has turned into such a phenomenon that Toyah and Robert are taking the show on the road, booking a UK tour for the fall of 2023.
• Continue reading at Consequence.