Posts Tagged 'Sunday Lunch'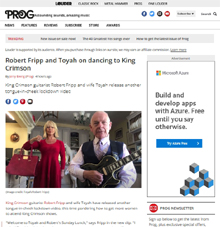 King Crimson guitarist Robert Fripp and wife Toyah release another tongue-in-cheek lockdown video
King Crimson guitarist Robert Fripp and wife Toyah have released another tongue-in-cheek lockdown video, this time pondering how to get more women to attend King Crimson shows.
"Welcome to Toyah and Robert's Sunday Lunch," says Fripp in the new clip. "I asked Toyah's advice: how do we get more women to come and see King Crimson. And my wife says 'If women can dance to King Crimson, they'll be there!'"
• Contine reading at Louder. Watch the new video, "Women Dancing to King Crimson", below. Browse toyah.net's News Archive of posts on Toyah and Robert Fripp's lockdown dances, Sunday lunch videos and more…
This is brilliant – In this week's Sunday lunch, Toyah & Robert are discussing which has more cultural significance…. #Toyah or #KingCrimson. Only one way to find out….. a #showdown.