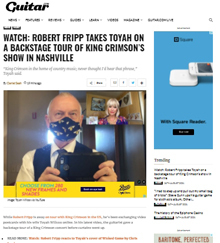 Robert Fripp Takes Toyah On A Backstage Tour Of King Crimson's Show In Nashville
"King Crimson in the home of country music; never thought I'd hear that phrase," Toyah said.
While Robert Fripp is away on tour with King Crimson in the US, he's been exchanging video postcards with his wife Toyah Willcox online. In his latest video, the guitarist gave a backstage tour of a King Crimson concert before curtains went up.
The footage shot by Fripp was of Nashville's legendary Ryman Auditorium – the "home of country music" as he described the venue which housed the Grand Ole Opry for three decades, and has seen the likes of Elvis, Johnny Cash and Hank Williams grace its stage.
• Continue reading at Guitar.com.