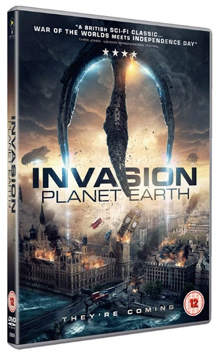 Special edition of sci-fi cult classic to be screened in Nuneaton
It is the handiwork of a movie maker who has his eyes on his next blockbuster
A Nuneaton movie maker is to host the first screening of a special edition of his sci-fi cult classic to help fund his next blockbuster. Simon Cox has turned to innovative ways to help raise funds for his next film – 'Of Infinite Worlds' – including trying to sell 20,000 mugs.
Now he is hosting a number of local screenings of his previous hit, 'Invasion Planet Earth', and this Thursday (March 9) there will be a special screening in his hometown.
It is being held at Nuneaton Christian Fellowship and will give people the chance to see a special version of the feature film, which was sold across the world.
"This sci-fi movie was shot in Nuneaton, Coventry and Birmingham and was a true passion project that took nearly 10 years to make," he said. "It was inspired by classic 1970's science fiction and features 80's pop icon, Toyah Willcox. It has sold all around the world and is becoming a bit of a cult classic."
• Continue reading at Coventry Live.