Releases: Toyah! Toyah! Toyah! CD + DVD/Colour Vinyl LP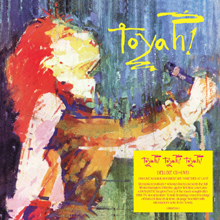 Following the deluxe releases of Sheep Farming In Barnet in 2020, and The Blue Meaning in 2021, comes the third Cherry Red release from Toyah's Safari albums discography, Toyah! Toyah! Toyah!, the live album with the glorious artwork by Dexter Brown.
Press Announcement from toyahwillcox.com and Cherry Red:
The third instalment in Cherry Red's deluxe re-issue series of Toyah's Safari Records back catalogue is the 1980 live album 'Toyah! Toyah! Toyah!',  released on Friday 13 May 2022.
PRE-ORDER NOW FROM CHERRY RED WITH LIMITED EDITION SIGNED POSTCARDS WHILST STOCKS LAST…. One design for the LP Edition, one for the CD+DVD Edition
The album is released as an expanded deluxe CD+DVD and a Limited Edition Coloured Vinyl LP.
The live album originally peaked at #22 in the UK Top 40 Album Chart in 1980 and also spent an entire year in the Independent Album Chart, earning a Silver sales certification.
The recorded gig took place on 17 June 1980 at the legendary Club Lafayette, Wolverhampton where Sex Pistols, Led Zeppelin and Stevie Wonder all performed. The gig was recorded on the Rolling Stones' Mobile Recording Unit and has been remastered from the original master tapes by Nick Watson.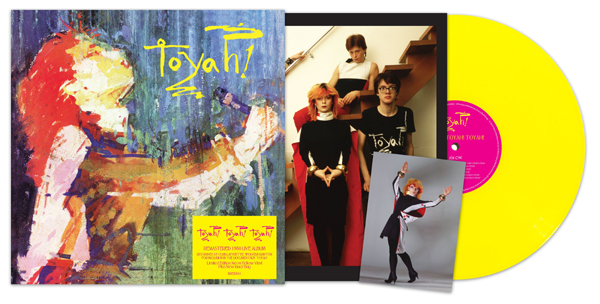 With sleevenotes by Craig Astley, Toyah's official archivist, who also compiled the package, the CD+DVD set finally restores the full concert set list and pairs the live album with a DVD of the 1980 television documentary Toyah, released on disc for the first time ever. Directed by Graham Moore and originally broadcast by the ATV (former name for ITV) network on 17 November 1980, it followed Toyah for over half a year capturing band rehearsals, studio recording sessions, play rehearsals and in her then-home, the notorious Battersea warehouse 'Mayhem'.
The CD+DVD features the previously unreleased songs 'She', a reprise of 'Danced' and an unedited complete version of 'Neon Womb' which originally faded early as the B-Side of live single 'Danced'.
The CD+DVD contains a fully illustrated 24-page booklet featuring an introductory note from Toyah alongside rare and unseen photography of Toyah and the band line-up which disbanded before this album's original release.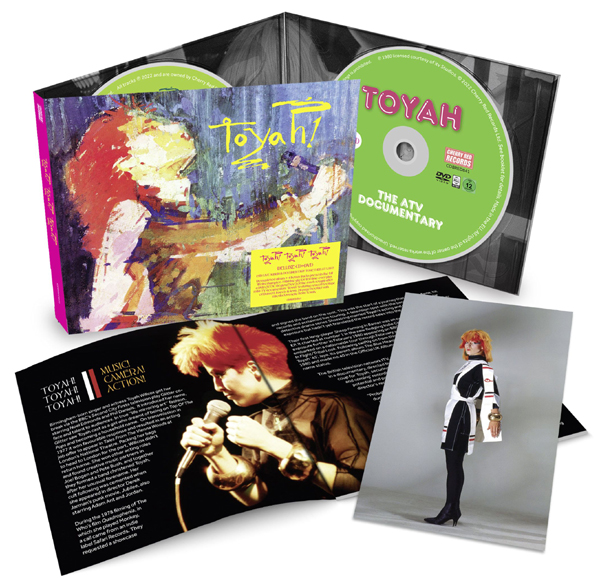 The documentary features promo-style video footage for the songs 'Blue Meanings' and 'Neon Womb' alongside concert footage of 'Danced', 'Insects' and 'Ieya' as heard on the live album.
LP and CD: Toyah! Toyah! Toyah!
1 Victims Of The Riddle
2 Indecision
3 Love Me
4 Vision
5 Bird In Flight
6 Tribal Look
7 Danced
8 Insects
9 Race Through Space
10 Ieya
CD-only Bonus Tracks
11 Ghosts
12 Neon Womb (Unedited)*
13 She*
14 Danced (Encore Version)*
*Previously unreleased
DVD in CD+DVD Edition
Toyah: ATV Documentary
Including promo video-style footage of 'Neon Womb' and 'Blue Meanings' and concert footage of 'Insects', 'Danced' and 'Ieya'.
• Pre-Order Toyah! Toyah! Toyah! on colour vinyl and CD at Cherry Red (The editions with signed postcards sold out almost immediately!). Read the press release at toyahwillcox.com. Watch Toyah announcing the release during this morning's Toyah At Home.