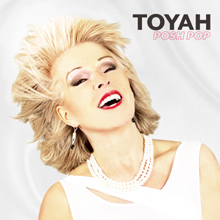 The second great review of the day for Posh Pop, this from Liam Rudden in the Edinburgh Evening News.
Fabulous​,​ flawless, five star pop from Toyah
It's a mystery how time has flown. I remember clearly the first time I heard the name Toyah Willcox.
I was 15, hanging around the square behind the family home in Leith when a purple-mohicaned punk called Pete appeared. He was visiting pals in the scheme and we got talking about music. He was a fan of a singer who, he claimed, could unite mods, rockers and punks. Some feat in those days.
"Everyone charges to the front when she comes on," he said, adding, "They don't even fight when Toyah's singing." The next day I headed to Ards Record Shop on Great Junction Street and found a copy of Sheep Farming In Barnet. One listen and I was hooked.
That was 42 years ago, it's still a brilliant album as is Toyah's latest, Posh Pop, released last weekend. Reunited with long term collaborator Simon Darlow and with husband Robert Fripp on guitar, Posh Pop is at once reflective and optimistically forward thinking.
…Barefoot On Mars, my highlight of the album, is an arrestingly emotional, uplifting​ and joyous tribute. A tear-inducing salute to Toyah's mother, it ​will ​touch the soul of ​anyone who has ​​lost a ​truly ​loved one.​ ​A degree of lightness returns with Rhyth​​m ​I​n ​M​y ​H​ouse​, ​an easy listening ​number brought to life with ​unicorn​s​ and bubbles​, which is followed by ​Summer ​O​f ​Love and an unapologetic Sixties' 'love and peace' vibe​.
• Continue reading at the Edinburgh Evening News. This review is also published in The Falkirk Herald and The Southern Reporter. See more Posh Pop reviews.