Posh Pop: Album Review By 'Retro Pop'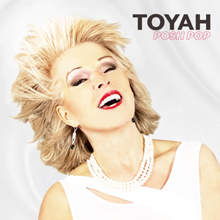 The Posh Pop reviews are beginning…
Toyah – Posh Pop
Released: 27 August 2021
"A body of work that stands amongst the best of her career".
Toyah embodies the essence of pop music on her latest LP 'Posh Pop'
The collection was recorded with husband Robert Fripp and co-writer/producer Simon Darlow during lockdown – a theme that underpins each of the 10 tracks.
Opener and lead single Levitate deals with the forced confinement and sees the star rise beyond the realms of the pandemic and reacquaint herself with a world seemingly gone by.
It encompasses the overall theme of the album, which for listeners and as a creative pursuit for Toyah, is about escapism.
While songs like Space Dance and Rhythm In My House are through and through pop numbers, the genius of 'Posh Pop' is in the lyrics, which simultaneously reference the world today while remaining timeless.
• Continue reading at Retro Pop. The album is released on Friday. Pre-order Posh Pop here.