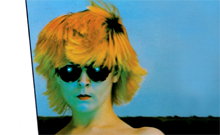 Win a rare Sheep Farming In Barnet reissue rarity, courtesy of HMV…
It's National Album Day on Saturday 10th October and to celebrate we will be running a new prize draw everyday with prizes from some of the National Album Day Ambassadors who are supporting this exciting day.
Happy National Album Day!! Today, we have a prize from Toyah Willcox where you could win a signed test pressing of remastered Sheep Farming vinyl!
• To enter, all you have to do is enter your details here or by clicking below. (The prize draw ends at 11:59pm Saturday 10th October. Entries received after this time will not be included.)