HMV.Com: My Record Collection by Toyah Willcox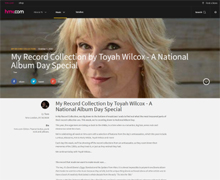 My Record Collection by Toyah Willcox
A National Album Day Special
In My Record Collection, we dig down to the bottom of musicians' souls to find out what the most treasured parts of their record collection are. This week, we're counting down to National Album Day.
This year, the organisers are taking us back to the 1980s, to a time when nu-romantics, big hair, arena rock and electronics ruled the chart. We're celebrating all week on hmv.com with a selection of features from the day's ambassadors, which this year include La Roux, Blossoms, Kim & Marty Wilde, Toyah Willcox and more! Each day this week, we'll be showing off the record collections from an ambassador, as they count down their memories of the 1980s, as they lived it, or just as they wished they had.
We continue today with Toyah Willcox…
The record that made me want to make music was…
"For me, it's David Bowie's Ziggy Stardust and the Spiders From Mars. It is almost impossible to pinpoint one Bowie album that made me want to write music because they all did, but the unique thing Bowie achieved above all other artists was to have a burst of creativity that lasted a whole decade from the early '70s into the '80s."
"Bowie surfed the Zeitgeist effortlessly like a Pied Piper and lead a generation into the brilliant unknown with each album release. Ziggy was my first discovery of Bowie's genius and thereafter he awed me with everything he ever did."
The record I played throughout the 1980s was…
"It was Roxy Music's Avalon. I have loved Roxy Music since their first album. Their sound is utterly unique, but tricks you into thinking that it is familiar, it isn't, they are one of the cleverest bands of all time, creating a whole movement of stylish cool and smooth dance-inducing music. Avalon is a super commercial album but it hasn't sold out in any way. It is the definition of lounge cool."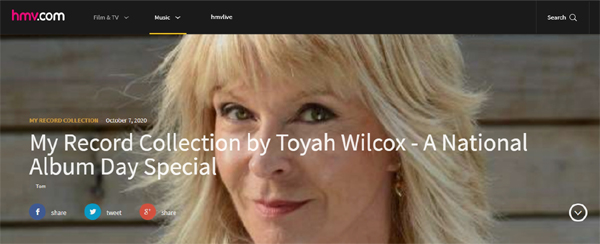 The record that takes me back to the 1980s was…
"It's Tears For Fears and their album Songs From The Big Chair. There are easily three albums that define the 80's Kate Bush's Hounds Of Love, Peter Gabriel's So and Songs From The Big Chair."
"Songs From The Big Chair has a wealth of classics that have inspired so many who followed. 'Shout' is an all-time anthemic great and 'Everybody Wants To Rule The World' must be one of the cleverest songs of the '80s, a decade often associated with greed."
• Continue reading at hmv.com. Browse our National Album Day 2020 news archive.