Worcester News: Singer Toyah Willcox Postpones Tour Dates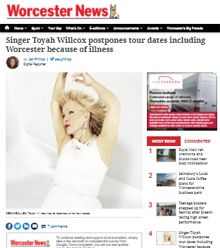 Singer Toyah Willcox has had to postpone tour dates including Worcester because she is unwell.
The 63-year-old It's a Mystery singer revealed to fans that she had tested positive for covid so would have to reschedule four dates to 2022.
Pershore's Toyah was due to perform at Huntingdon Hall on Saturday (November 20) but has not rescheduled for Saturday, January 15 next year.
In a video, she said: "Firstly, I want to let you know I'm okay I've tested positive for covid.
"Last night during soundcheck at the Robin in Wolverhampton. I realised I'd lost my sense of taste and my sense of smell. I took three tests on the spot and two were positive and one was negative which led to a lot of discussions about whether the show could go on."
• Continue reading at Worcester News. See Toyah's full tour schedule, including the few rescheduled dates, at toyahwillcox.com.