Retro Pop: Toyah Axes Live Shows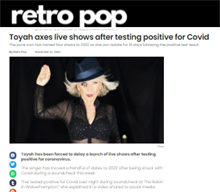 Toyah axes live shows after testing positive for Covid
The punk icon has moved four shows to 2022 so she can isolate for 10 days following the positive test result.
Toyah has been forced to delay a bunch of live shows after testing positive for coronavirus. The singer has moved a handful of dates to 2022 after being struck with Covid during a soundcheck this week.
"I've tested positive for Covid. Last night during soundcheck at The Robin in Wolverhampton," she explained in a video shared to social media.
• Continue reading at Retro Pop. See Toyah's full tour schedule, including the few rescheduled dates, at toyahwillcox.com.