Toyah Live 2021/2022: Posh Pop Tour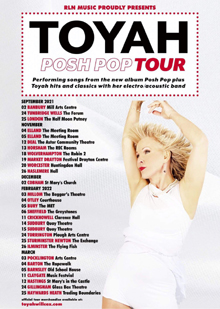 Toyah begins the Posh Pop Tour on 2nd September 2021 at Banbury Mill Arts Centre.
Performing songs from the new album Posh Pop plus Toyah hits and classics with her electro/acoustic band
29 UK dates have been announced in total, straddling the later months of 2021 and early months of 2022.
The tour dates are accompanied by a great new Posh Pop image of Toyah.
Other dates include: London's The Half Moon Putney, Elland The Meeting Room, Horsham The REC Rooms, Worcester Huntingdon Hall, Bury The MET, Sheffield The Greystones, Sudbury Quay Theatre, Ilminster The Flying Fish, Barnsley Old School House, Hastings St Mary's In The Castle and Haywards Heath Trading Boundaries.
See a larger version of the Posh Pop Tour flyer at Twitter.
• Visit toyahwillcox.com for the full schedule, plus all of Toyah's other confirmed live dates for the coming months and into 2022.