Toyah Live 2021: Virtual Woo Fest Music Festival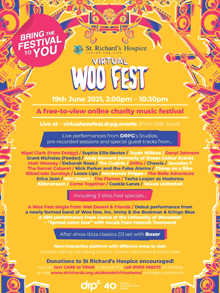 Woo Fest Music Festival takes place tomorrow – in a virtual format.
Toyah is one of the headliners of the event. Also playing are Sophie Ellis Bextor, Nigel Clark (of Dodgy), Grant Nicholas (of Feeder), Andy Bennett (of Ocean Colour Scene).
As well as Danyl Johnson, Matt Woosey, Deborah Rose, The Cugins, Drifta, Chewie, Junction 7, The Secret Cabaret, Nick Parker and the False Alarms, Chimp on a Bike, BibleCode Sundays, Loose Lips, Mackenzie Phipps, The Belle Adventure, Erica Jean, Wet Desert, The Flames and many others.
This year Woo Fest is a free-to-view online music festival in aid of The St Richard's Hospice.
Woo Fest Virtual 2021 begins at 2pm and continues right through the day and evening until 10.30pm.
• Visit the Woo Fest website for further info and the complete line up playing tomorrow. NB. Toyah also played last year's Virtual Woo Fest too.