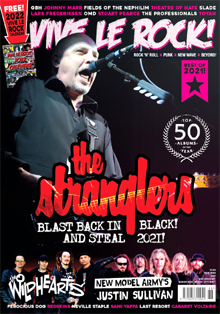 • Vive Le Rock!: Toyah is included in the latest issue (No. 88 / December 2021) of Vive Le Rock magazine, in a new three-page interview feature, mainly focusing on The Blue Meaning. The magazine is available to buy in stores (WH Smith, Tesco etc.) or order the print or digital issue online here…
• Toyah At Home – Christmas Special: In a special episode of Toyah At Home coming up on Christmas Eve, Toyah reflects on the momentous occasion of her live televised concert at Dury Lane on Christmas Eve 1981. Premieres 11am on Christmas Eve.
• Toyah Live 1981: PS. Look out for some news on the Drury Lane concert coming in 2022.
• Proud Cabaret: Toyah is on stage in Proud Cabaret at London Embankment on 22, 28 and 29 December. Book at https://proudcabaret.com/…/christmas-cabaret-all-stars… for any of the remaining three December dates above to catch Toyah or call 020 7482 3866⁠, Monday to Saturday from 10am to 6pm.
• Supermind: Read a review of the new audio drama, featuring Toyah as Lady Witcombe, here…