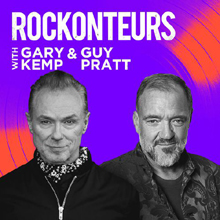 Rockonteurs with Gary Kemp and Guy Pratt
S1E38: Toyah Willcox
This week, Guy and Gary chat to a creative tour de force. Musician, actress, TV presenter and now lockdown YouTube sensation, Toyah Willcox.
What a career! 20 albums, over 40 stage plays, at least 10 films including the iconic mod classic 'Quadrophenia'.
The interview with Toyah was great fun and we can't wait to share it with you.
• Listen to the Rockonteurs podcast here.