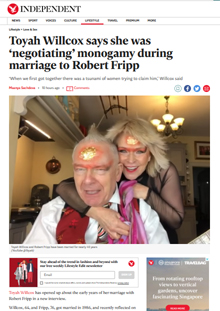 Toyah Willcox says she was 'negotiating' monogamy during marriage to Robert Fripp
'When we first got together there was a tsunami of women trying to claim him,' Willcox said
Toyah Willcox has opened up about the early years of her marriage with Robert Fripp in a new interview.
Willcox, 64, and Fripp, 76, got married in 1986, and recently reflected on their nearly 40-year relationship.
Speaking to The Times, Willcox said Fripp proposed to her within a week of their second meeting in 1985, with the couple tying the knot on the King Crimson guitarist's 40th birthday.
Willcox added she had to explain her "version of monogamy" to him, referring to the "tsunami of women trying to claim" Fripp.
"When we first got together there was a tsunami of women trying to claim him. It was breathtaking. I got very bored of the number of people who felt they had to tell me they'd slept with him," she explained. "I was, like, 'Go f*** yourself.'"
• Continue reading at The Independent. NB. This article is an extract from Toyah & Robert's interview published this week by The Times/The Sunday Times.