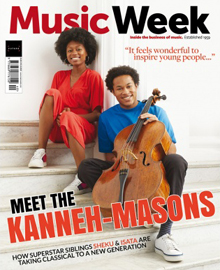 Toyah is interviewed in the latest issue of Music Week magazine, in their regular feature, The Aftershow.
The new issue of Music Week is out now as we welcome the Kanneh-Masons to our cover.
Elsewhere, we speak to Blue Raincoat Music's Jeremy Lascelles and Robin Millar about their bold relaunch of Chrysalis Records as a frontline label. With a little help from Laura Marling, the duo take us inside their big plans for the future…
Plus, we speak to Senbla CEO Ollie Rosenblatt about some big festival news and National Album Day organiser Megan Page reveals the exclusive releases heading our way for the annual celebration of the LP.
Elite songwriter Sarah Hudson recalls the making of Dua Lipa's smash single Physical in Hitmakers, while National Album Day ambassador Toyah Willcox reflects on her life and times in the music business in The Aftershow…
• Visit Music Week's website for ordering info.