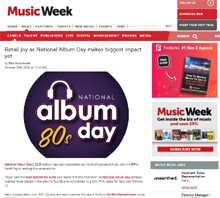 Retail joy as National Album Day makes biggest impact yet
National Album Day's 2020 edition has been celebrated as the most successful yet, with the BPI's Geoff Taylor leading the celebrations.
Taylor said the team behind the event has "taken it to the next level" as National Album Day releases claimed three places in the albums Top 20 and contributed to a 24% lift in sales for Saturday, October 10.
National Album Day ambassador, Toyah Willcox, said: "It has been a huge privilege to be a NAD ambassador this year. Celebrating the music of the '80s, a decade that is loved by generation after generation. The art in making an entire album is a journey the artist wants to take the audience on, personally I have treated all my albums as an audio journey. This year's re-releases encouraged music lovers to buy timeless music. I like to think NAD has also encouraged new up-coming artists to think about making full albums as their right of expression, thus keeping the high street retailers stocked and trading in decades to come. It has been a really lovely experience in a crazy year!"
• Continue reading at Music Week.