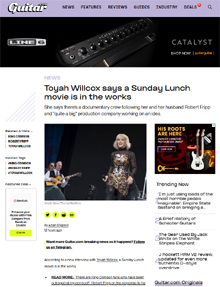 Toyah Willcox says a Sunday Lunch movie is in the works
She says there's a documentary crew following her and her husband Robert Fripp and "quite a big" production company working on an idea.
According to a new interview with Toyah Willcox, a Sunday Lunch movie is in the works.
Willcox and her husband, King Crimson's Robert Fripp might be accomplished musicians in their own right, but they shot to prominence with a new audience at the height of the COVID-19 pandemic when they began uploading videos to YouTube.
Entitled Toyah and Robert's Sunday Lunch, their videos feature covers of well-known songs, with their cover of Metallica's Enter Sandman receiving over 8.4 million views to date.
They've been on tour with it, and now it looks as though there's even going to be a movie too. Speaking to eonmusic, Willcox explains, "Well, the Sunday Lunch phenomenon, which is a worldwide phenomenon which a movie's being made about, it's basically, we picked up on classic rock, and our treatment of rock is; if you can teach Mozart and Beethoven in schools, then why can't you teach classic rock? Because that's what it is now; rock from Led Zeppelin, rock from Black Sabbath; it's classic, it's never going to go away. And it's something that I think, kids would really love learning about."
Continue reading at Guitar.Com. See also: NME, Far Out Magazine, Metal Injection.