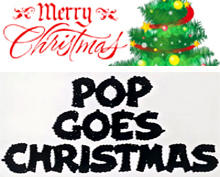 It's Christmas Eve! And the final day of Dreamscape's Christmas Countdown 2022…
Christmas 1982, The build up/countdown to Christmas wouldn't be complete at Dreamscape without this… I think I've mentioned I Believe in Father Christmas almost every December for the last 23 years, so here we go again…
Toyah covers the Greg Lake 1975 classic (which I didn't realise also features Robert Fripp until Toyah mentioned it a few years ago on Toyah's Christmas at the Zoo) for ITV's Pop Goes Christmas in 1982. The programme aired on Boxing Day and also featured Musical Youth, Mari Wilson, Dexy's Midnight Runners, The Nolans, Toto Coelo, The Mighty Wah! and Shakin' Stevens.
According to an info board posted online, Pop Goes Christmas was only recorded less than a fortnight before it aired. Not sure if this is completely accurate. 
Toyah sounds glorious, looks amazing (wearing her Brave New World/The Changeling black contacts) and Keith Hale and Joel Bogen are having a right old festive time in the forest of lit up trees during the recording, which was introduced by David Essex. Bravo!