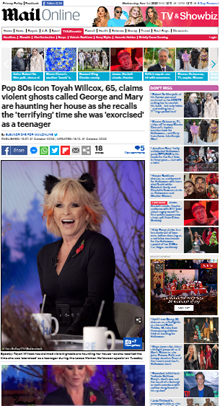 Toyah guested on yesterday's Loose Women Halloween Special, on ITV, with the interview being covered today by the Daily Mail.
Pop 80s icon Toyah Willcox, 65, claims violent ghosts called George and Mary are haunting her house as she recalls the 'terrifying' time she was 'exorcised' as a teenager
Toyah Willcox has claimed violent ghosts are haunting her house – as she recalled the time she was 'exorcised' as a teenager.
The 80s icon, now 65, appeared on the Halloween special of Loose Women on Tuesday alongside Olivia Atwood, Kaye Adams, Nadia Sawalha and Jane Moore.
Toyah spoke up about her experiences of 'paranormal activity' in her Worcestershire home, where she has lived for over 20 years.
She told the eerie story as she sat in front of a smoking cauldron for the spooky episode dressed as a black witches' cat, complete with a belted jumpsuit and furry ears.
The I Want To Be Free singer said she and her husband, rock musician Robert Fripp, had been 'invited' to live in the house by ghosts.
She revealed that one of her resident ghouls named George has become so violent that she has begun to 'attack' her friends on numerous occasions.
Toyah explained: 'George has never bothered me but he's attacked my hairdresser, he's attacked friends at dinner parties. I've never been afraid.
'It all started to kick off when we would have dinner parties. Our ghosts do not like me when men come into the house something will happen.'
• Continue reading at the Daily Mail.