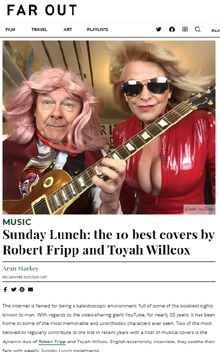 A new super comprehensive Sunday Lunch feature is available to read at Far Out magazine.
Sunday Lunch: the 10 best covers by Robert Fripp and Toyah Willcox
The internet is famed for being a kaleidoscopic environment, full of some of the kookiest sights known to man. With regards to the video-sharing giant YouTube, for nearly 20 years, it has been home to some of the most memorable and unorthodox characters ever seen. Two of the most beloved to regularly contribute to the site in recent years with a host of musical covers is the dynamic duo of Robert Fripp and Toyah Willcox. English eccentricity incarnate, they soothe their fans with weekly Sunday Lunch instalments.
A power couple in every sense of the phrase, Fripp and Willcox remain illustrious names of the industry. The former is the creative mastermind of prog-rock pioneers King Crimson and undoubted guitar hero. Aside from his main gig, Fripp has also helped to bring the works of eminent artists such as David Bowie, Brian Eno and David Sylvian to life and enjoy a successful solo career. As for the latter, Wilcox fronted the successful new wave band Toyah between 1977 and 1983 and has since enjoyed a respected solo career of her own. Outside of the musical sphere, she's also an esteemed actor, having starred in Derek Jarman's cult 1978 punk film Jubilee and the ultimate mod drama, Quadrophenia.
The pair married in 1986 and have been going strong ever since. Then, when the Covid-19 pandemic hit in 2020, the couple knew that they had to do something for their own sake and those of others. Sunday Lunch was Willcox's idea, as she wanted to keep her husband busy whilst he and King Crimson were forced off the stage by the lockdown. Since then, the pair have uploaded a host of musical covers to YouTube under the Sunday Lunch tag.
From Black Sabbath to Right Said Fred, their lighthearted yet eccentric takes on classic songs have been a remedy for many a woe on a Sunday afternoon. One part unhinged and one part kinky, they've kept fans interested for nearly three years, evidencing their potent formula. With Fripp mostly sat in his chair and Willcox on vocal duties, backed by a host of props and occasionally friends, Sunday Lunch has been a breath of fresh air since its debut.
• Continue reading at Far Out Magazine.