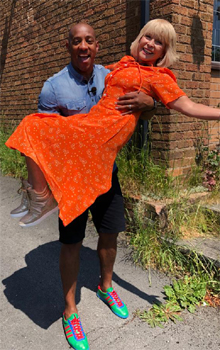 Celebrities set to unleash their inner property expert as they celebrate 20 years of Homes Under the Hammer
For the first time ever each special episode will contain a celebrity host, a new property, and a memorable moment from the archive with a double-bill due to air on the anniversary
Homes Under the Hammer first aired on BBC One on 17 November 2003 and is set to celebrate in style with celebrity guest presenters on its 20th Anniversary. For the first time ever each special episode will contain a celebrity host, a new property, and a memorable moment from the archive with a double-bill due to air on the anniversary.
The celebrity guests are fans of the programme and will enjoy the opportunity to offer their own individual insight as they share ideas to transform the properties. Martin Roberts will kick off the anniversary celebrations with Laurence Llewelyn-Bowen in Bristol, followed by Martel Maxwell and Alex Jones in London. Laurence rivals Martin in the fashion stakes before offering advice on recycling a retro avocado bathroom suite and Alex expresses her love for original features. The celebrities will also present the iconic phrase 'Let's find out what happened when it went under the hammer' before meeting with the new owners who were successful at auction.
Later in the year, Dion Dublin will be joined by Toyah Wilcox in Birmingham, Jacqui Joseph will co-present with Owain Wyn Evans in Wales and Tommy Walsh will get a helping hand from The Traitors favourite, Amanda Lovett, in Buckinghamshire.
• Continue reading at BBC Media Centre. See photos of Toyah and Dion at Twitter/X, and a short preview video clip at Facebook. (Photo © Toyah Willcox)