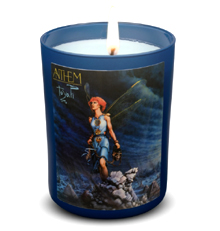 Evoke Candle Co. have announced their officially licensed Anthem by Toyah candle.
The candle comes boxed and is scented with a fragrance chosen by Toyah. Pre-order the candle. Click here to watch Toyah unbox the candle.
The candle celebrates Anthem – an album that inspired so many people around the world and reverberates with a kick ass spirit to this day. It features the iconic album artwork and a gorgeous blue vessel.
In honour of the 40th Anniversary of the album Anthem by Toyah in 2021, Evoke Candle Co. are pleased to have partnered with Cherry Red Records on this limited-edition candle. Released in 1981, Anthem went to number two on the British Record Charts, had two Top Ten singles, It's A Mystery and I Want To Be Free, and has been awarded Gold Record Status. A tour in support of Anthem followed, with sold out shows all over the UK.