Posh Pop Tour 2022: Esher Theatre, Surrey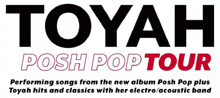 Toyah onstage at Esher Theatre in Surrey on Friday night (11th March), a date from the Posh Pop Tour. The set list included Good Morning Universe, Take Me Home, Sensational, Ieya, It's A Mystery and Obsolete. Watch/Listen to performances of all of these songs here.
There are just four dates left of the Posh Pop Tour: Carlisle (17th March), Whitehaven (18th March), Gillingham (24th March) and Sheffield Green (25th March). Further info on these dates and all of Toyah's confirmed upcoming live dates for 2022 can be found at toyahwillcox.com. Please click on the photos below to view larger versions.
• Browse Dreamscape's Posh Pop Tour archive and Posh Pop archive. (Thanks to Damon | Photos © Damon King)