NME: Toyah Remembers Trying To Beat Up Adam Ant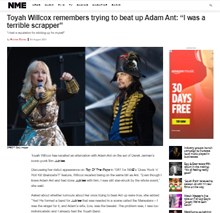 Toyah Willcox remembers trying to beat up Adam Ant: "I was a terrible scrapper"
Toyah Willcox has recalled an altercation with Adam Ant on the set of Derek Jarman's iconic punk film Jubilee.
Discussing her debut appearance on Top Of The Pops in 1981 for NME's 'Does Rock 'n' Roll Kill Braincells?!' feature, Willcox recalled being on the same bill as Ant. "Even though I knew Adam Ant and had done Jubilee with him, I was still star-struck by the whole event," she said.
Asked about whether rumours about her once trying to beat Ant up were true, she added: "Yes! He formed a band for Jubilee that was needed in a scene called the Maneaters – I was the singer for it, and Adam's wife, Eve, was the bassist. The problem was, I was too individualistic and I already had the Toyah Band.
• Continue reading at the NME.