Daily Mail: Toyah Willcox Prays For Hazel O'Connor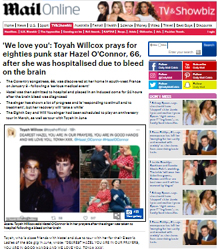 'We love you': Toyah Willcox prays for eighties punk star Hazel O'Connor, 66, after she was hospitalised due to bleed on the brain
• The Coventry songstress, 66, was discovered at her home in south-west France on January 9 – following a 'serious medical event'
• Hazel was then admitted to hospital and placed in an induced coma for 24 hours after the brain bleed was diagnosed
• The singer has shown a lot of progress and is 'responding to stimuli and to treatment', but her recovery will 'take a while'
• The Eighth Day and Will You singer had been scheduled to play an anniversary tour in March, as well as tour with Toyah in June
Toyah Willcox said Hazel O'Connor is in her prayers after the singer was taken to hospital following a bleed on her brain.
The singer, 63, took to Twitter on Monday, after Hazel's family announced the Coventry songstress, 66, had been placed in an induced coma for 24 hours. Hazel was found at her home in south-west France on January 9th, having experienced a 'serious medical event'.
• Continue reading at the Daily Mail.