Get To The Front: Gig Review: Toyah – Robin 2, Bilston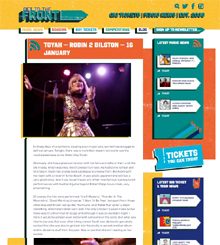 TOYAH – ROBIN 2 BILSTON – 16 JANUARY
In these days of uncertainty causing even major acts, sometimes struggle to sell out venues. Tonight, there was a more than decent turnout to see the rescheduled date at the Robin 2 by Toyah.
Obviously, she has a great connection with her fans and talks to them a bit like old mates, which was nice, but of course it's music we had come to hear and let's face it Toyah has a large back catalogue to choose from. But kicking off the night with a cover of 'Echo Beach', it was easily apparent she still has a very good voice.
And if you haven't seen any of her now famous Sunday lunch performances with husband guitar legend Robert Fripp, have a look, very entertaining.
Of course, the hits were performed, 'It's A Mystery', 'Thunder In The Mountains', 'Good Morning Universe' 'I Want To Be Free', but apart from those other less well known songs like 'Hurricane' and 'Rebel Run' given a slight reworking, which went down very well.
• Continue reading at Get To The Front.