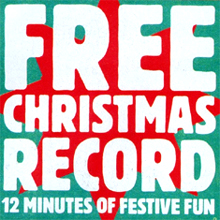 Christmas 1982, Happy Christmas From The Stars, a "Free Christmas Record (12 Minutes of Festive Fun)", was attached to the December 9-22, 1982 issue of Smash Hits magazine.
The Christmas flexi was originally an idea by Neil Tennant – who worked as a journalist at Smash Hits before global pop stardom as a Pet Shop Boy. It was produced in association with Levis, released by Lyntone Records, produced by Trevor Dann and recorded by Mark Ellen.
The festive flexi-disc featured numerous pop stars – Abba, ABC, Adam Ant, Bananarama, Bucks Fizz, Captain Sensible, Culture Club, Duran Duran, Funboy Three, Haircut 100, Imagination, The Jam, Madness, Mari Wilson, Musical Youth, The Piranahs, The Police, Steve Strange, Toyah, Ultravox – sending readers Christmas greetings, messages and Yuletide tunes.
Click below to listen – Toyah arrives at the Christmas 1982 Pop Star Party at 4.46, in-between Martin Fry of ABC and Steve Strange of Visage. Too-de-loo!!
NB. I'd like to dedicate this post to Terry Hall, not only of The Specials and Funboy Three, but two other great bands, The Colour Field, and Terry Blair & Anouchka. He truly was the voice of a generation! Rest in Peace.