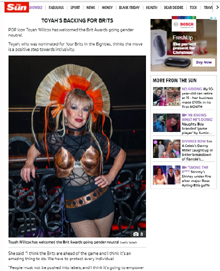 Pop icon Toyah Willcox has welcomed the Brit Awards going gender neutral.
Toyah, who was nominated for four Brits in the Eighties, thinks the move is a positive step towards inclusivity.
She said: "I think the Brits are ahead of the game and I think it's an amazing thing to do. We have to protect every individual.
"People must not be pushed into labels, and I think it's going to empower a whole new generation."
The It's A Mystery singer is starring in London's Proud Embankment Cabaret All Stars show. Despite her 63 years she shows no sign of slowing down.
Toyah said: "My advice to people of all ages is to grab life by the horns and have confidence in yourself."
We can't argue with that . . .
• Continue reading at The Sun/Bizarre. See further info on Toyah with Proud Cabaret, here.