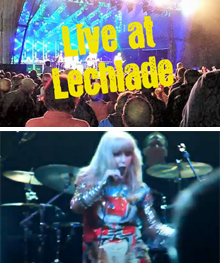 Toyah's performance of It's A Mystery from Lechlade Festival 2014 is included in their new classic moments playlist.
Inspired by this weekend's Glasthomebury we've put together classic live moments from previous years at Lechlade.
Including Status Quo, That 80s Rock Show, Scouting For Girls, The Proclaimers, Toyah, Doctor and the Medics, Tasha Leaper as Madonna, Light Zeppelin, The Inflatables, Frankenstein's Lobster, Sam Draisey, Genevieve Miles Music, Hellsinki v, Benji & Hibbz, Voodoo Vegas…
We can't wait to create more momentous moments in 2021! Early Bird Tickets are on sale now for a limited time only.
• See the full playlist at You Tube. Browse our Lechlade Festival 2014 news.