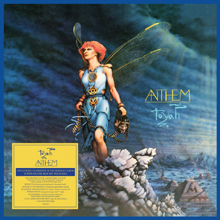 Congratulations to Toyah. Anthem returns to the Official UK Album Chart, exactly 40 years after it left – in 1982, after spending a year on the chart.
Anthem placed at #33 today, following the reissue of the album on Deluxe and Super Deluxe formats, giving Toyah her sixth charting album in the past four years.
Anthem is also high up in numerous other charts, including #1 on the official Independent chart, #6 on the official Physical chart, #6 on the official Sales chart, #6 on the official Vinyl chart, #61 on the official Download chart and #6 on the official Scottish chart. Anthem also places at #29 on the official Record Store chart. Great stats! As with Posh Pop last year, if the Album Chart was, as it used to be, a sales chart, Toyah would certainly have another Top 10 album!
• Chart Stats: Toyah has now had six albums on the Official Charts in the past four consecutive years: In The Court Of The Crimson Queen (2019) #74, Sheep Farming In Barnet (2020) #99, The Blue Meaning (2021) #59, Posh Pop (2021) #22, Toyah! Toyah! Toyah! (2022) #72, Anthem (2022) #33.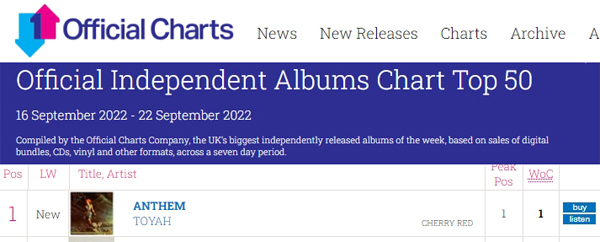 • Official Charts: See this week's full Top 100 Album Chart – Continue reading…
• Official Charts: And finally, a remastered reissue sees Toyah's Anthem re-enter the Top 40 (33). The record originally peaked at Number 2 upon its release in 1981 – Continue reading…
• Official Charts @ Twitter: British icon Toyah's 1981 record Anthem re-enters the Top 40 this week – Continue reading…
• Cherry Red Records @ Twitter: Congratulations Toyah on her Top 40 charting place for the deluxe Anthem reissue! – Continue reading…
• Anthem: Click to buy the album on 2CD+DVD, Colour Vinyl or Super Deluxe. (Update: The Anthem Super Deluxe box set is currently out of stock)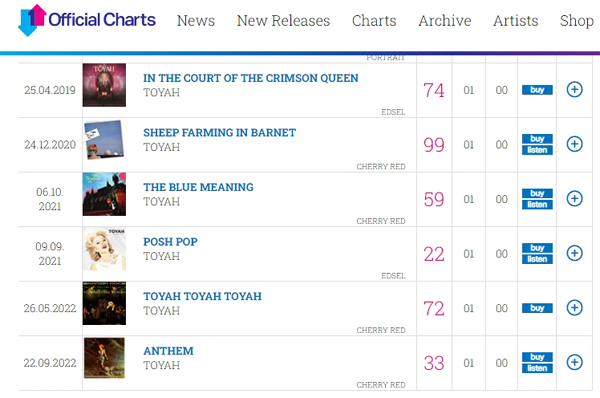 • Official Charts: See Toyah's full charts stats on the Official Chart – Continue reading…
• Dreamscape: Browse our "Toyah On The Official Charts" news archive…