Super Deluxe Edition: Cherry Red Steps Up Toyah Reissues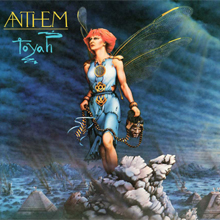 Cherry Red steps up Toyah reissues with massive Anthem box set
1981 album gets the super deluxe treatment
Toyah's 1981 album Anthem will be reissued in September across three physical formats, one of which is a large seven-disc super deluxe edition box set which comes with a signed print.
The album was the first to feature the new line-up of Toyah Willcox, Joel Bogen, Nigel Glockler, Phil Spalding and Adrian Lee. It reached number two in the UK album charts and contained a pair of top ten hits in 'It's A Mystery' (which was issued in February '81 as part of the 'Four From Toyah' EP) and 'I Want To Be Free' which was issued just before the album in May of that same year. Audio for the reissues has been remastered by Nick Watson (from the original master tapes) and approved by Joel Bogen.
• Continue reading at Super Deluxe Edition.